40 kommentarer
Krop og sundhed giver eleverne et rigtig godt kendskab til arbejdsformerne og det faglige niveau i gymnasiet.
Projektet giver dem også mulighed for at lære de fysiske rammer på gymnasiet lidt nærmere at kende", fortæller lærer Jens Michelsen fra Haahrs skole i Svendborg.
Torsdag den 6. januar skulle de to tiende klasser på Haahrs skole deltage i et indslusningsprojekt "Projekt krop og sundhed" på Svendborg Gymnasium.
Gymnasiet havde forberedt et undervisningsforløb over to dage som optakt til det videre forløb i grundskolen..
Den første dag startede med en generel orientering, hvor eleverne bl.a. fik en dybere forklaring omkring det faglige indhold af gymnasiets fire lærere Mads Gammeltoft, Jørgen Dinesen, Inger Elisabeth Ring og Connie Eriksen.
Værkstedsundervisning
Herefter blev eleverne delt i 3 grupper, hvor de skulle rundt i 3 forskellige "værksteder":
Kemilokalet, hvor der skulle der undersøges sukkerindhold i sodavand.
Fysiklokalet, hvor eleverne selv var testpersoner ved forskellige målinger, der blev foretaget i forhold til idealkroppen, Her var eleverne selv testpersoner.
Gymnastiksalen, hvor eleverne foretog fysiske målinger i forbindelse med idrætsaktiviteter.
Eleverne synes at det var rart at komme rundt i de forskellige faglokaler og øvelserne var lærerige.
Lærerne fra begge skoler sluttede med fælles frokost og plads til kollegial snak.
Krop og sundhed med teoretisk vinkel
Fredag blev klassen delt i to hold. Det ene hold fik et oplæg på gymnasieniveau om kondition. Det andet hold skulle lave en morgenmads analyse med et IT- program. Eleverne indtastede deres morgenmad og herefter blev der snakket ernæring med teori på gymnasieniveau. Frokosten blev indtaget i kantinen sammen med de øvrige gymnasieelever. Resten af denne dag blev brugt til et oplæg omkring, hvordan den projektorienterede undervisning foregår på gymnasiet.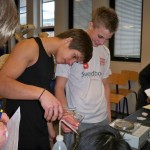 Eleverne sluttede med at finde et emne, de havde lyst til at arbejde videre med og lave en problemformulering til det videre forløb.
Eleverne udtrykker samlet, at de synes at det er dejligt at prøve at være en del af gymnasiet og få et indtryk af det faglige niveau.
De to skoler vil gentage projektet til næste år, da det giver begge skoler og eleverne et godt indtryk af hinandens verdener.