9.362 kommentarer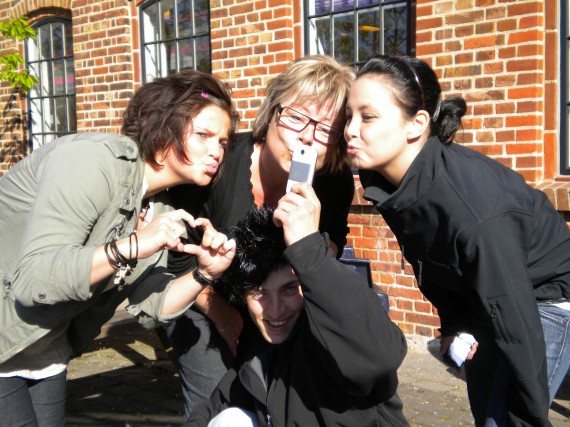 "Hvad er lykke?" Det spørgsmål giver mange sjove og spændende svar, når AVU-elever på VUC Vest får til opgave at sende deres besvarelser som en video, optaget via en mobiltelefon. VUC Vest har nemlig som led i projekt HOLD FAST eksperimenteret med at få flere utraditionelle og digitale elementer ind i undervisningen i udvalgte AVU-fag.
"Vi har købt 22 smartphones som to klassesæt" fortæller udviklingskonsulent Bent Laursen, "og så er vi ellers gået i gang med at afprøve og udforske, hvordan vi kan inddrage mobilen som et aktivt undervisningsredskab i undervisningen".
"Vi har afprøvet flere forskellige typer af opgaver, fx at optage små emnevideoer som eksemplet med "Hvad er lykke?". Vi har også været på gaden og lavet små interview om aktuelle spørgsmål, som er blevet optaget og rapporteret via mobilen. Det kan også være opgaver, hvor eleverne skal parre ordsprog med forskellige billeder, som de får sendt til mobilen, eller matematikopgaver eller oversættelsesopgaver i sprogfag. Faktisk er det kun fantasien, der sætter begrænsninger, siger Bent Laursen og fortsætter…"ja, og så teknikken, især når den driller…
I starten, da vi var novicer, havde vi virkelig meget bøvl med teknikken. Hver gang vi skulle bruge mobilerne, kunne underviseren enten ikke sende beskeder til elevmobilerne eller også kunne eleverne ikke sende deres svar til underviseren, og det var virkelig demotiverende og frustrerende. Men efter mange kvaler opdagede vi, at telefonerne var opsat forkert, så de kommunikerede via to forskellige e-mail-clienter. Da vi først fik det rettet, og fik mobilerne omprogrammeret fra bunden af igen, så begyndte systemet at virke efter hensigten.
Vi bruger en internetplatform, der hedder "mobilearn.dk" til at strukturere vores digitale opgaver. Her kan underviserne lægge opgaver op til eleverne og sende dem til mobilerne, og her samles elevernes svar, så de kan se og kommentere hinandens besvarelser.
Når eleverne bliver sendt i marken med mobilerne, er de som regel sammen to og to eller i tremandsgrupper. Eleverne synes, det er sjovt og afvekslende at få lov til at bruge mobilerne i en seriøs undervisningssammenhæng. De får mere energi og motivation til at gå i gang, og der kommer mere fantasi ind i besvarelserne, fortæller Bent Laursen. Det motiverer også i høj grad de elevtyper, som ikke er vilde med at byde sig til i en traditionel klasseundervisning. For nogle er det rart, at de kan bevæge sig rundt, mens de laver deres opgaver, så kroppen også kommer i sving. Og så er det godt at være to om opgaverne, både for at udvide den faglige refleksion, men også for at kunne hjælpe hinanden med de tekniske finesser og lære af hinandens færdigheder.
"VI vil helt sikkert prøve at få endnu flere digitale elementer ind i undervisningen i næste skoleår. I første omgang som variation til den mere traditionelle undervisning fx 1-2 gange om måneden. Til at begynde med var vi en lille pionergruppe på 3-4 interesserede undervisere, som har eksperimenteret med forskellige opgaver i fx dansk, engelsk og samfundsfag. Men nu har vi netop dannet en udvidet erfa- og udviklingsgruppe på 8-10 kollegaer, som vil være med på vognen i næste skoleår, og så vil vi sikkert også afprøve digitale opgaver i andre fag fx engelsk og billedkunst".
"Jeg tror mobiltelefoner om få år får en helt naturlig plads i undervisningen i takt med at flere og flere elever selv har smartphones med dataopkobling. Så på sigt er der nok ingen perspektiv i at have særlige skoletelefoner, der kun kan kommunikere i lukkede systemer.
Jeg vil helt sikkert opfordre andre undervisere til at gå i gang med at udforske digitale undervisningsmuligheder. Bare man husker at få teknikken ordentlig indstillet og afprøvet på forhånd", griner Bent Laursen, "for ellers får man hurtigt sat elevernes begejstring og tålmodighed over styr, og så bliver det til mere besvær end til fornøjelse.
Og så skal man jo som underviser bare glæde sig over, at mange elever er mere ferme til at bruge teknikken, end man selv er.
Det giver nemlig en unik mulighed for at lade eleverne lære fra hinanden og tage ejerskab i undervisningen, hvilket igen øger deres motivation og faglige fastholdelse, og det er en vigtig sidegevinst".